The Argon One V2 revision 06122021V4.2 fan speed can be set with I2C write commands with value between 0 (off) and 100 (full speed). Value 0 turns the fan off correctly, but there is minimal fan speed difference between values 1 and 100 (almost maximum speed and noisy).
My first impression is that I received a DOA, but connected a scope to check what's wrong as I could not find similar issues on this forum.
PCB:
Write I2C fan speed command:
# Stop service
$ sudo systemctl stop argononed.service 

# Set fan PWM speed on I2C bus 1 device address 0x1a:
# value 0: Fan off
# value 1..99: Fan 20kHz PWM 30%..99% duty cycle
# value 100: Fan full speed
$ i2cset -y 1 0x01a <value>

The PWM output pin of U1 microcontroller MT006C6PB (STM8S003F3) pin 13 works correctly: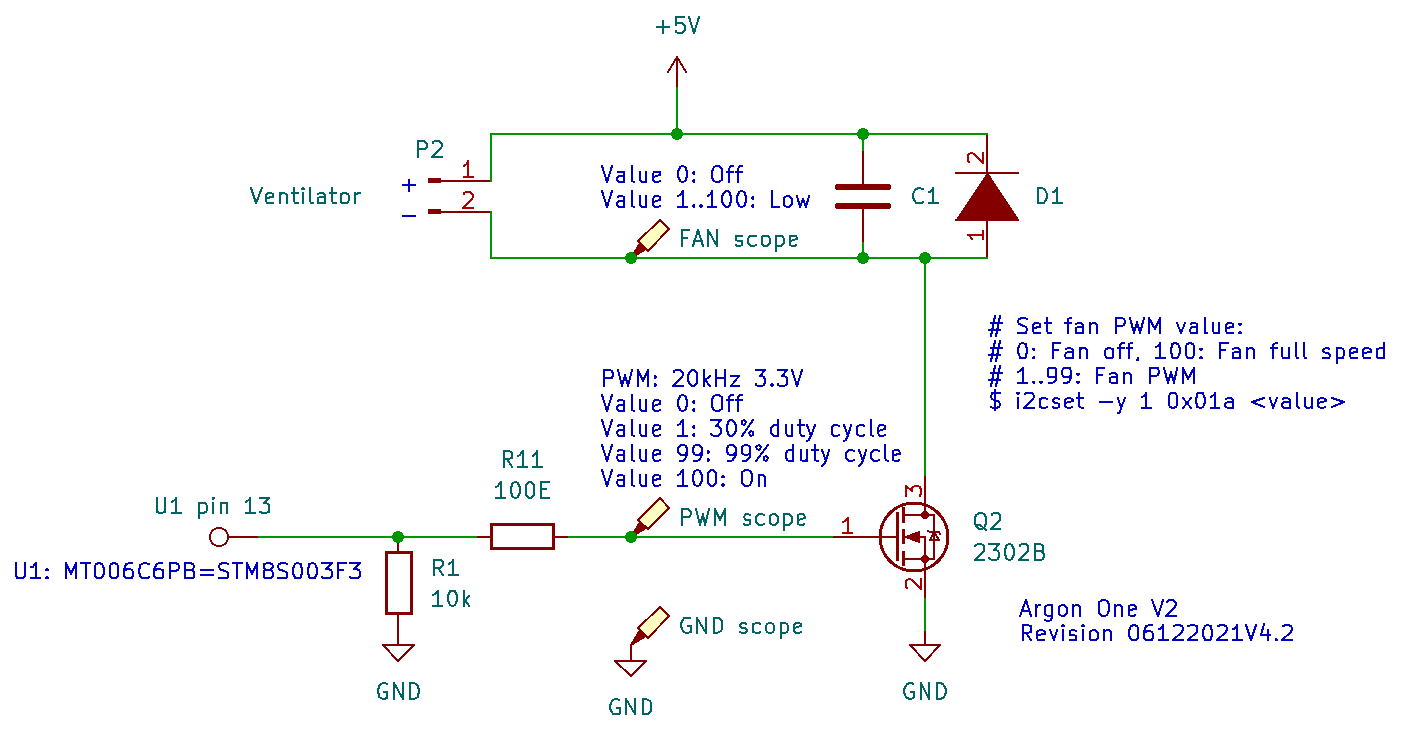 Fan speed value 1 on gate MOSFET Q2 is correct:
Fan speed value 99 on gate MOSFET Q2 correct:
When measuring on the drain MOSFET Q2, the pin is almost 0V (PWM not working) with all values 1…100, also when replacing the fan with a 470Ohm resistor:
It looks like the MOSFET is in saturation (source - drain shortage) and is always turning on the fan. The fan speed control works correctly with an external transistor or MOSFET, similar to the schematic above.
Is this normal behavior that there is almost no difference in fan speed, or is my new Argon One V2 broken? For example broken MOSFET 2302B Q2 controlling the fan?